Morgan Automotive Operations during the Covid-19 Pandemic
Life in our nation is slowly returning to normal; perhaps, a new normal. One thing that will never change is Morgan Automotive's commitment to our friends, ourstaff members and our community. As we continue to reopen our dealerships, we want you to know we've established sanitizing protocols in every area of our stores, in each of our vehicles and in yours after they've received service. Plus, our staff members observe all aspects of social distancing. Our handshakes have been substituted with warm words of greetings. You may not be able to see our smiles behind the masks we wear, but they're there. In light of this new normal, our desire to offer a superior experience has only been strengthened.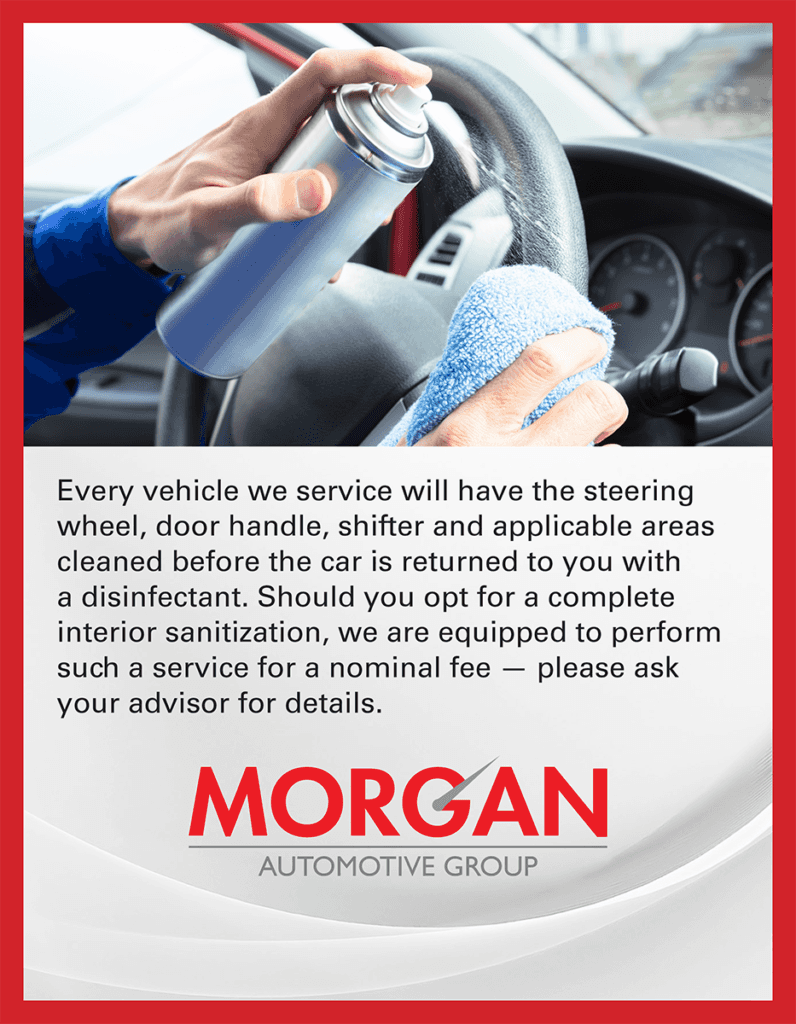 Facilities:
1) We have increased our dealerships sanitization efforts and the frequency of dealership cleanings.
2) High traffic surfaces and common work areas are being sanitized at a high frequency. We have worked with our suppliers to ensure that hand sanitizer and other products are readily available.
3) Each dealership has been further applied with an anti-microbial agent which will deter the ability for viruses and bacteria to linger on dealership surfaces.
Personnel:
4) All dealership personnel are adhering to strict CDC guidelines related to social distancing and in some cases additional provisions set forth under new local ordinances.
5) All our staff members will use masks and gloves and will sit 6 feet away from you.
6) Any employee exhibiting any symptoms or illness are asked to head home for a minimum of 14 days and can only return with a doctor's note.
Customer Experience:
7) Most of our stores offer complimentary pick-up and delivery for service appointments. Contact your Service Center through our "Schedule Service" page, which can be found on each dealership's website.
8) We encourage our guests to utilize our digital retailing capabilities to "shop online." In most Morgan stores, 90% of the transaction can be completed online and over the phone. Additionally, we're happy to deliver your new or used vehicle directly to your home – or office.
9) All service vehicles are returned only after having all "high-touch" areas sanitized. They are also sanitized at reception.
10) We offer complete sanitization of your vehicle with proven anti-microbial products, Dynex and Omnishield. The cost is quite reasonable. Click here for more information.
11) In many of our stores additional customer waiting areas have been made available outside of the walls of our dealership and our internal waiting areas have been modified to comply with social distancing recommendations and requirements.
12) In gratitude of everything our frontline heroes do to keep us safe, we proudly offer all first responders and healthcare workers the following bonus:


*Offer ends 9/30/2020.