Helping Hand For Puerto Rico: Morgan Stores Collecting Donations
As news from Puerto Rico continues to come in, a grim picture begins to emerge, one of total devastation for the island nation.
It's easy to get caught up in the sadness one feels when seeing images of ruin and destruction. But just as Mr. Rogers used to say, "look for the helpers" during a bad situation and you will find the best of humanity.
Where there is need, there are those stepping up to give aid. Morgan Auto Group is joining the effort to help Puerto Rico recover from Hurricane Maria by setting up donation sites at select dealerships.
CEO Brett Morgan released this statement regarding donations and relief efforts:
"Since the devastation of Hurricane Maria our hearts and minds have never been far from the people of Puerto Rico. We know well too many stories of customers, employees, friends and their families intimately effected by this crisis. We continue to monitor the situation there closely and we are of mind to help in any which way that we can. My family as of this morning has sent a small plane full of goods and supplies to friends of ours in Puerto Rico. We wish we could do for all what we have done for them but we do know that every little bit helps. Starting today we are accepting supplies and donated goods for distribution to Puerto Rico across all of our Tampa Bay Area & Sarasota dealership locations including Sun Toyota (Holiday, FL), Ford of Port Richey (Port Richey, FL), MINI of Wesley Chapel (Wesley Chapel, FL), Jerry Ulm Chrysler Dodge Jeep Ram (Tampa, FL), Brandon Honda (Brandon), Toyota of Tampa Bay (North Tampa) and BMW of Sarasota (Sarasota, FL). We are thankful to associates such as BMW's Fernando Becerra-Santori who are helping to organize these efforts and get the word out. Today and for the days moving forward our hearts are with Puerto Rico."
Where To Donate Supplies For Puerto Rico
You can help Puerto Rico recover from Hurricane Maria! Bring your non-perishable supplies to any of these select Morgan Auto Group stores:
Not sure what to bring? Here is a list of the most needed items to get you started!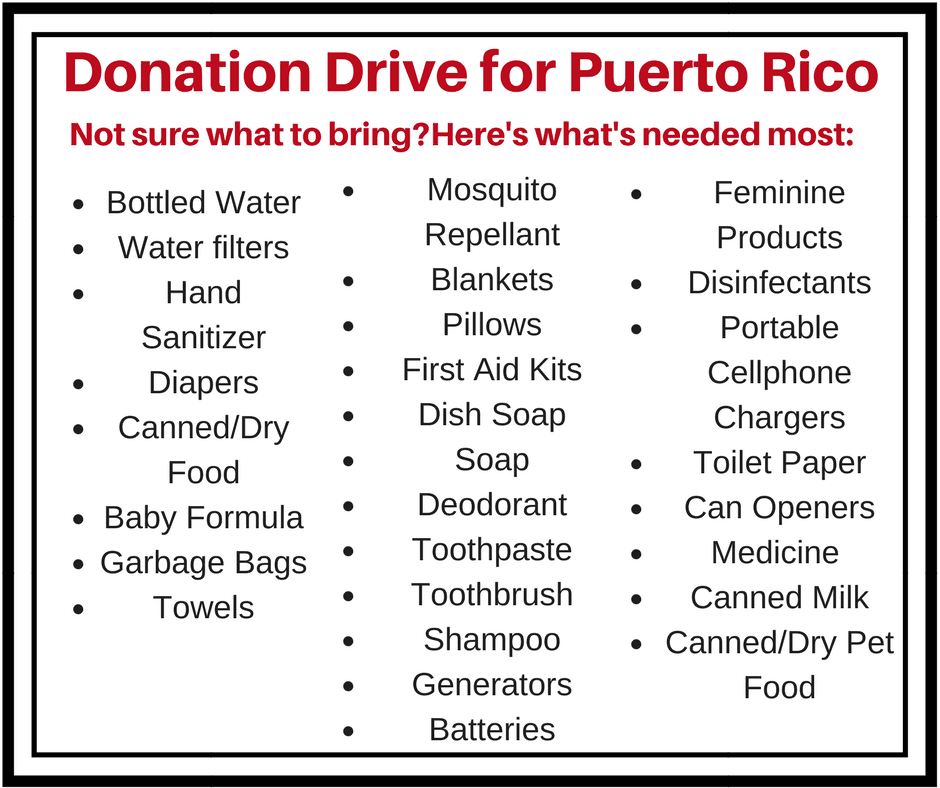 If you would like to help Puerto Rico relief efforts, bring donations to the participating dealership closest to you. Together we can help our neighbors who have lost so much!