We are hiring Chrysler Dodge Jeep Ram Technicians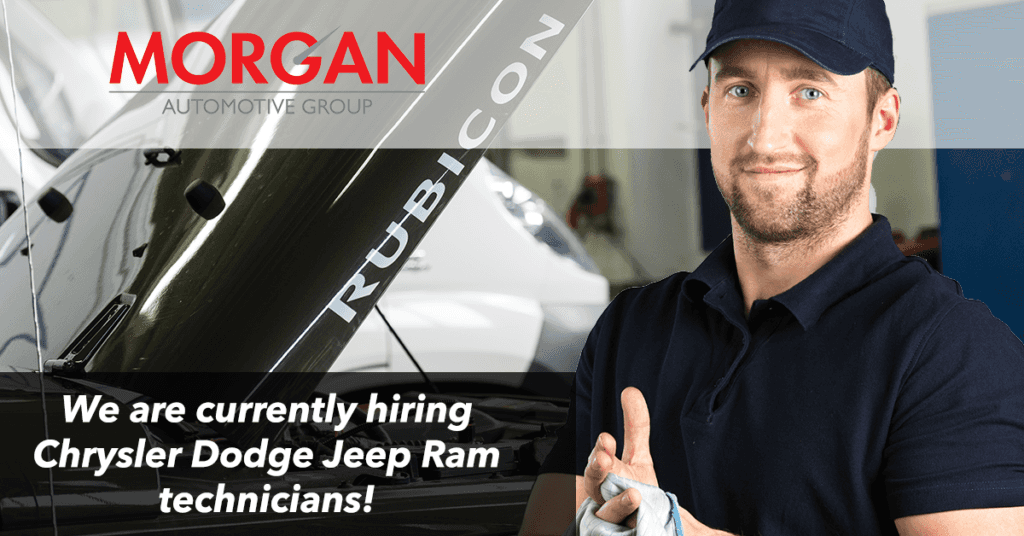 Experienced Technicians are eligible for signing bonuses from $2,000 to $10,000 (Paid over 12 to 18 months) and potential relocation reimbursement at specific Morgan dealerships! We currently have three Chrysler Dodge Jeep Ram dealerships in Florida (Tampa, Naples and Lake City).
Why join the Morgan Auto Group team?
Now hiring automotive technicians and mechanics: We are actively hiring technicians for all Morgan Auto Group locations! We have dealerships from as far south as Naples to as far north as Lake City Florida with large concentrations in the Tampa Bay and Ocala/Gainesville regions. We are one of the fastest automotive dealership groups in the country which means great opportunities for our technical work force. We have opportunities for experienced technicians as well as technicians new to the field.
Automotive technicians: our dealerships represent quality brands such as Honda, Toyota, BMW, Mercedes-Benz, Lamborghini, Ford, Lincoln, Kia, MINI, Buick, GMC, Chevrolet, Volkswagen, Chrysler, Dodge, Jeep, Ram, Mazda and Mitsubishi. If you are an experienced technician wanting to relocate to Florida or just in the need of a more rewarding and challenging environment than the Morgan Auto Group is the place for you!
Click here for a full roster of Morgan Auto Group dealerships
Benefits and Advantages of joining the Morgan Team
-Supportive and progressive leadership team
-Best in class dealership facilities
-Our dealerships are located in great places to live in Florida!
-Aggressive planned dealership expansion throughout the Southeast 
-Potential signing bonus (based on previous experience) 
-Potential Relocation expense (based on previous experience)  
-Bonuses for production, sales, quality of work, general performance and attendance 
-Management Career Training (available)
-Dental Insurance
-Vision Insurance
-Generous PTO (Paid Time Off) Policy
-Short Term Disability
-Long Term Disability
-Catastrophe Tool Insurance
-Major Medical Insurance
-Supplemental Insurance Available: Hospitalization, Critical Illness, Cancer and Accident Insurance
-401K with employer match (details available)
-A.S.E. Certification reimbursement
-Tool relocation
-Manufacturer based training (paid for)
-Performance and production based incentives (You turn the hours we'll pay the dollars)
-Shop supported by generous store level advertising spend
-5 Day Work Weeks
-Employee Discounts on Vehicles and Service 
-Free Tickets available for Tampa Sporting Events and Concerts (Amalie Arena Concerts, Tampa Bay Rays, Tampa Bay Lightning tickets available by request) 
-Hourly and flat rate pay plans 
-Quarterly Company Events (optional): Softball, Basketball, Fishing and Paintball 
-$500.00 Referral Bonus for hired technicians (min requirements for time worked) 
Pay based on levels of technician certification, experience and previous manufacturer training levels. We are accepting technician applications from all skill levels. 
Express interest by filling out the brief form below